'Research is the backbone for the right decisions ''
Martin Søndergaard from Aarhus University shared his perspective on lake restoration from a Danish perspective. The researcher draws strong parallels between Denmark and the Netherlands. "There are many similarities. Both countries have countless shallow lakes and have very intensive agricultural land use with lots of cattle. That's why we must expect that our ecosystem is affected by human activity", he says.
"Research is the backbone for the right decisions"
He explains how intensive agriculture has led to poor water quality in many Danish lakes and how their restoration brings huge challenges.
System knowledge
Currently, only 5 percent of the lakes in Denmark meet the quality standards that are set out by the European Union. He elaborates the 'Law to action' roadmap that they often follow in restoring lakes in Denmark. Besides getting acceptance from land owners and other stakeholders, system knowledge is a crucial part of the process. "Before you take action it is important to know your system. I believe research is the backbone for making the right decisions", he stressed.
[text continues below image]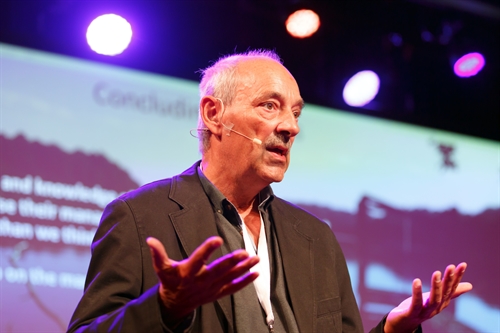 One of the success stories in Denmark is lake Filso, that for a long time was a polder. After the land was bought in 2012 and water was led back into the area, resulting in a lake of 1.000 hectares. The lake has very rich biodiversity and attracts bird watchers from across the country. Because the polder had been used for agriculture, the remaining nutrients in the soil can have a negative effect on water quality. "The question is now: what will happen in the future? Apart from restoring lakes, "Don't forget to maintain the lakes that have an intrinsic high quality", Søndergaard pleads.
The researcher is fascinated Marker Wadden, especially because of the magnitude of the project. "It's a nice example of how to create new nature. Also, it's impressive how you involved the public and research. We don't always know why we do the things we do. That's why it's important also to learn while doing things."